Understanding Post-Proccessing - A Step by step tutorial that teaches post-processing through a detailed look at five photographs by Award winning Photographer, Mitchell Kanaskavich
Take a look at these shots:
They're Ok. But not the best, right?

Now take a look at the same shots after post-processing:
These are shots from Award-winning photographer Mitchell Kanashavich.
It just goes to show, often those amazing final shots we see, didn't exactly start out so amazing.
Even with your own shots, all of the elements of an amazing photo might be there, you just need to spend a little time in post-production.
Just a little bit of tweaking.
Ask yourself this -
Are You Giving Your Shots the Post-Processing Time They Deserve?
Think of all the opportunities you might have missed out on because you've prematurely dismissed a photo as 'bad'
You probably even have a whole lot of old shots on your computer that might be a few small tweaks away from being brilliant.
But remember - Post-processing definitely isn't easy.
I'm not referring to simply applying a one-click preset or an action.
Amazing post-processing is an art form.
And Mitchell is going to teach you how to get good, fast.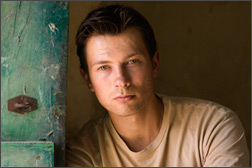 Understanding Post-Processing is my practical guide to post-processing of photographs in Adobe Lightroom and Photoshop. The eBook briefly looks at the philosophy behind post-processing and aims to help you gain an understanding of those tools which are most relevant to making your images striking and powerful.
Five of my photographs are analyzed in-depth through a step-by step breakdown of the actions required to achieve the final look of each image – from opening up the .RAW files to applying the finishing touches in Photoshop.
Simply put – There's absolutely no better way to learn.
HERE'S WHAT I'M GOING TO TEACH YOU:
The all-important fundamentals of post-processing (Including the EXACT way I use layer masks) (Pages 3-7)
Tweaking 'Temperature' and blending layers to communicate the atmosphere/weather of a scene. (Pages 8-16)
Increasing the tonal range by selectively tweaking 'Exposure' with the 'Adjustment Brush'. (Pages 8-16)
Bringing out facial features with intricate 'Dodging' and 'Burning' in Photoshop. (Pages 8-16)
Adjusting 'Temperature' and increasing 'Vibrance' to dramatically enhance light. (Pages 17-21)
The power of the 'Tone Curve' (Pages 22-26)
Using the 'Gradual Fill' tool and blending layers in Photoshop to bring out the dramatic sky. (Pages 27-32)
Adjusting 'Luminance' to brighten an area of similar color. (Pages 33-37)
Adjusting 'Exposure', 'Clarity' and 'Contrast' to dramatically bring out facial features and textures in a flat RAW image. (Pages 33-37)
What Others are Saying About this Book:
It's the real goods. No gimmicks, no fancy plug-ins. It's somewhere between a book and an extended set of tutorials in length… HIGHLY recommended.

David duChemin

(Founder of CraftandVision.com)
This is one of the more useful ebooks I have read in a long time. Through in-depth step by step tutorials, illustrations and explanations, this ebook will help you produce striking images with plenty of impact.

Richard Schneider

(Editor & Founder of Picturecorrect.com)
Join more than 3547 photographers from around the world, who have used this eBook to dramatically improve their post-processing ability.
Click Add-to-Cart Now to Get Your Copy of The Understanding Post-Processing Guide!
Was US$12.00 Today Only: $9
The Photzy 365-Day Risk Free Guarantee
This eBooks comes with a 365-day Money Back Guarantee. If at any time you are not happy with your investment in this guide, just contact us for a full refund. That is how sure we are that you will love it.
WARNING–Offer Expires Soon!
Your 25% Off 'Because-It's-Monday' discount is only guaranteed until midnight. We reserve the right to increase the price tomorrow. Don't Miss Out!