Leading lines really work well. That's why you want to incorporate them into any of your pictures that you can.
Did you know that you can use leading lines in portraits?
When you think about it, the arms and hands are mobile leading lines that you can position until perfection.
Leading lines draw the eye in a specific direction across the photograph. They are an important composition tool that will allow you to send a message, control the viewer, or create a certain atmosphere within your shot.
Given that this tool is so effective, it's easy to see how it might come in handy in portraiture. If you want to make sure that your portraits pack more of a punch, this is a fantastic idea to try. In this guide, we'll go through different leading lines and how you can use them for compelling portraits.
Fashion magazine editor Rhiannon D'Averc shares with you her thoughts and tips on using leading lines in portraits.
How to position body parts so that they 'lead' right toward your subject's face
Tips on composing with composition arrows sprinkled in your scene and pointing to your subject
How to utilize natural leading lines that occur in the body
Using the most robust leading line — the eyes, known as 'sightline'
How to avoid pesky distracting lines that lead away from your subject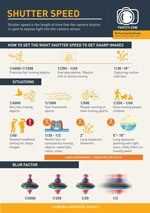 Want More? Get the Snap Cards Essentials cheat sheet set. With these extra cheat sheets (20 in total) you'll never have to fumble with your settings and miss that great photo opportunity again!
Not only will these Snap Cards give you a simple and beautiful way to learn photography on-the-go… They'll also give you the confidence to experiment. Because now, if you get stuck with a problem, you'll have the answer right there with you in your camera bag! Go here now to find out more  – The Snap Cards