Lightroom has multiple tools to adjust the tonal values within your photographs.
Which tools you select and how you use them will be critical to the success of your photos, especially when trying to create a mood.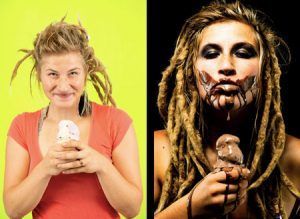 In this photo comparison we see the same model with the same prop, but displaying vastly different moods.
The expression of mood in photography is very much tied to the tonal values presented within a photo.
In this guide, you will learn about…
Why contrast can help set the mood
The importance of shadow
Lighting and tone
Creating two moods from the same lighting
Enhancing controlled lighting
The tools for adjusting tone in Lightroom
Photo Credit: Kevin Landwer-Johan
Want More?
If you'd like to produce your own inspiring, memorable images that convey real meaning and emotion, our Art of Portrait Photography eBook is the perfect next step.
It covers everything you need to know to take consistently great portrait shots – lighting and posing tips, composition guidelines, getting great shots from minimal equipment, and much more. Go here now to find out more – The Art of Portrait Photography