If you are a Lightroom or Photoshop user and haven't mastered the Content-Aware Fill tools, you are truly missing out on one of the most potent post-production editing tools for photographers.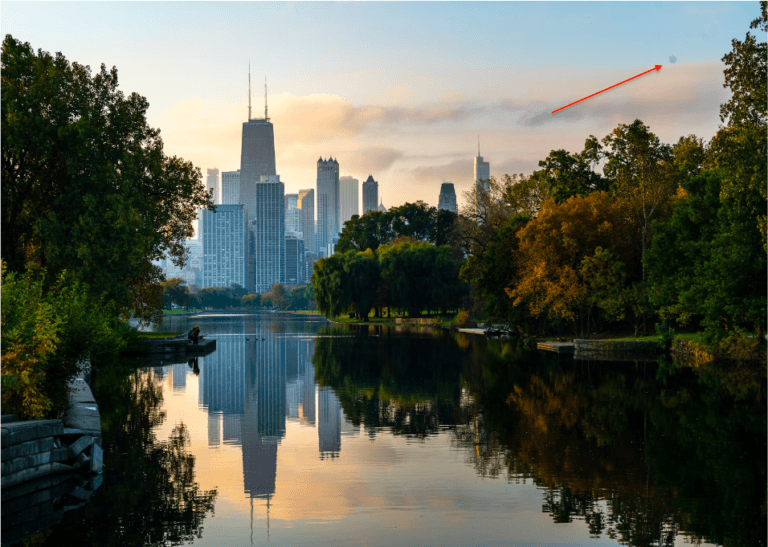 Have you ever seen these nasty dust spots from your sensor? Sure, you have. We all have.
Content-Aware Fill offers numerous solutions for you to get rid of these spots with ease!
What is Content-Aware?
Changing or removing an element in your image means that you want to replace some of the pixels. You can't just remove pixels. If you do that, you'll have a blank space in the image. You need to replace the pixels with others that make sense.
Ideally, you don't want your viewer to notice that you've changed anything at all!
In the past, you would have to replace each pixel individually. But not anymore. Content-Aware Fill tools use algorithms to choose replacement pixels. You tell the program what you want to be moved or removed, and the algorithm does the rest.
With each version of Lightroom and Photoshop, the algorithms get better and better. The programs still guess wrong at times. We'll show you what to do if this happens, but more often than not, the programs replace the pixels as if by magic.
Jenn Mishra will provide you with expert advice on the following Content-Aware tools:
Spot Healing Brush
Patch tool
Content-Aware Move tool
Content-Aware Fill workspace
She is also going to provide you with some learning assignments to build up your skills!
Content-Aware Fill technology has improved a lot over the years, but it's not foolproof. You may need to use a combination of these tools to get the effect that you want.
Post-Processing programs have made it easy to move or remove objects from your image. Content-Aware Fill uses AI technology to select and blend the best replacement pixels. As if by magic, you can make objects or people disappear from your image!
Photo Credit: Jenn Mishra
Want More? 
If you'd like to learn each of the fundamental editing steps from a professional photographer, our Ultimate Guide to Fundamental Editing eBook is the perfect next step.

This eBook will give you a complete step by step guide to photographic post-processing that will change your photography forever.  Go here now to find out more – The Ultimate Guide to Fundamental Editing