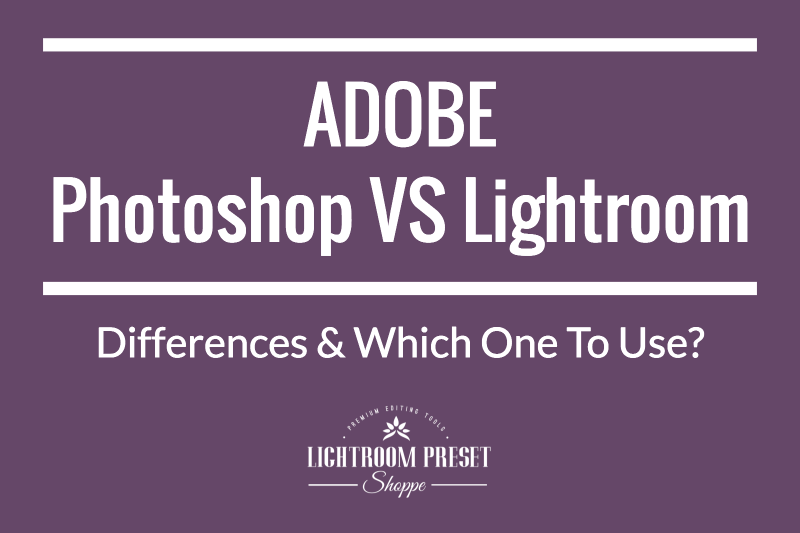 (Editor's Note: This article originally appeared on lightroompresetshoppe.com)
Post-Production and Editing has become an intrinsic and integral part of a Professional Photographer's workflow. These days, no image is ready straight out of camera (SOOC).
Whether it is doing subtle corrections and color grading or major retouching, image compositing and manipulation (yes, we will explain these terms below!), Professional Photographers definitely need various applications that fit their type of workflow the best.
Adobe is an industry leading Photo Editing Software Company that caters to Photographers, Designers, Graphic Artists, Digital Artists (2D and 3D), Retouchers, Web Designers, Cinematographers, Animators, Illustrators, Advertisers and all sorts of Creative Professionals.
In this blog post, we are going to look at an in-depth comparison between Adobe Photoshop and Adobe Lightroom. We will learn in detail, the inherent differences between Photoshop and Lightroom from the perspective of a Professional Photographer / Image Retoucher.
I will be overviewing both applications, mostly from a photographer's perspective, hoping it will help you get acquainted with both their strengths and weaknesses and enable you to decide which one meets your exact needs.
Here is what we will cover in depth:
What is Photoshop?

What is Lightroom?

Photoshop Image Editing Capabilities – Why and When to use Photoshop?

Lightroom Image Editing Capabilities – Why and When to use Lightroom?

Similarities between Photoshop and Lightroom

Conclusion: What to buy and Which Version to use – Lightroom or Photoshop?
So let's begin….
What is Photoshop?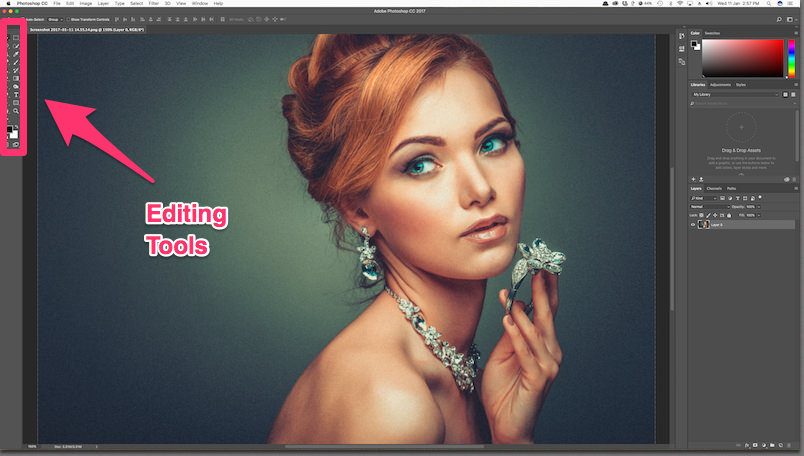 Photoshop is a raster graphics editing software suite made by Adobe that enables users to analyze and modify digital images.
Photoshop is considered to be the Industry Leading Raster Graphics Editing Software and it is used worldwide by photographers and graphic designers alike. The software comes bundled with an abundance of tools, plugins and actions that enable images and graphics to be modified and built on in almost every conceivable way.
The term "photoshop" has even worked its way into the language of popular culture. People know that to "photoshop" something means to digitally alter or modify an image.
What is Lightroom?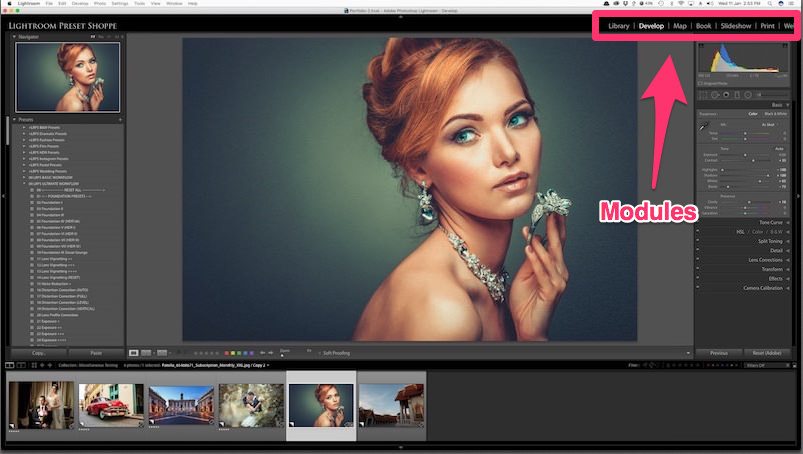 Adobe Lightroom (Lr or LR) is a photo processor and image organizer developed by Adobe for Windows and macOS. It allows viewing, importing, organizing, filtering, culling, editing, retouching, batch processing, proofing and exporting of digital images for print and digital media.
The Unique Selling Proposition of Lightroom is that all the edits made in Lightroom are completely non-destructive in nature by default. Although Adobe Lightroom is a very capable software and it shares its name with Adobe Photoshop, it cannot perform many Photoshop functions such as doctoring (adding, removing or altering the appearance of individual image items), rendering 3D objects on images, or modifying individual video frames.
Lightroom is a Workflow based Image Management Software and editing program built specifically for photographers that need to import, organize, select, catalogue, process and export their images quickly.
Photoshop Image Editing Capabilities – Why and When to use Photoshop?
Photoshop can be referred to as the King of The Hill Software. It has been a reigning champion for a very long time!

Photoshop is an all in one solution that caters to Photographers, Designers, Graphic Artists, Digital Artists (2D and 3D), Retouchers, Web Designers, Cinematographers, Animators, Illustrators, advertisers and all sorts of Creative Professionals.

Photoshop is a Raster based image editing and creation software. That means it's a Pixel Based Application. Pixels are the tiny dots that make up our photographs. When you use Photoshop to edit your photos you have ultimate control - right down to the individual pixels. Modern DSLR's shoot images easily above 10 Mega Pixels! 1 Megapixel = 1 Million Pixels. So if you own a 21 Megapixel Camera, that means, it will shoot an image that has 21 Million Pixels or tiny dots that make up the whole image!

Since Photoshop is a pixel based application, most of the editing is destructing in nature, because it involves altering or modifying individual pixels that make the image. Having said that, if you are an expert in Photoshop, you can edit your images in such a way that the entire process can still be non-destructive. However you need to be an expert with Photoshop for making sure, all your editing is non-destructive.

Photoshop offers God-like precision and control over the entire editing process. It has hundred of tools and powerful capabilities with which you can modify almost anything you wish to, in an image!

Photoshop Can go beyond RAW processing. It is an extensive, intensive, rather a Comprehensive Photo Editing, Retouching and Image Creation Tool on the planet!

You can create superior and sophisticated, realistic looking Panoramas and High Dynamic Range (HDR) Imaging with Photoshop.

If you wish to change the sky in an image, change the background, make a model look slim (Photo Manipulation), do high-end skin retouching on a person, combine the best elements of 2 or more images and make realistic composites, you can do all this only in Photoshop.

You can create composites of 2 or more images by blending the 2 images using layers, transparencies, adjustment layers, masking etc.

You can literally transform the look and feel of a photograph using Photoshop. If you can dream or visualise something in your mind, you can create that exact artwork in Photoshop.

Basically, to put it in a nutshell, there is nothing that Photoshop cannot really do!

Since Photoshop is a comprehensive editing and image creation tool, it is a lot more complex and has a steep learning curve.
Lightroom Image Editing Capabilities – Why and When to use Lightroom?
Lightroom is an Image Management system and editing program built specifically for photographers that need to import, organize, select, catalogue, process and export their images quickly.

Lightroom makes it very easy to view, import, organize, filter, cull, edit, retouch, batch process, proof and export digital images for print and digital media.

In other words, Lightroom provides a speedy and complete workflow from start to finish, allowing you to edit hundreds of images in a very short period of time.

Lightroom is exclusively a photographer focused software.

Lightroom is workflow based. So a photographer can adapt Lightroom to suit his own preferred Image Editing and Photo Management Workflow.

Lightroom is basically a database management application. In other words, all the editing that is done in Lightroom is completely Non-Destructive in nature. Whenever you edit images in Lightroom, you do not alter the images themselves. What Lightroom does is, it records all the steps that you carry out for editing an image and it stores those steps as a recipe in a separate file called the LRCAT file. This is a special Lightroom Catalog file that is a database consisting of all the changes you have made to your entire library of images that you have imported into Lightroom. Also, as a Lightroom user, you can use multiple catalogs for storing multiple library of images that you have shot for a variety of purposes. Since Lightroom stores all the changes made only in the catalog, the images you shoot remain untouched and hence the entire process is completely non-destructive.

Lightroom is simply the best editing program for basic and intermediate level image editing. Almost 90% of all your editing needs can be met using Lightroom.

And therefore, it has already become the default Editing Application of most Professional Photographers. Most Professionals these days use Lightroom as a starting point for all their editing requirements and only use Photoshop when it is actually needed.

Lightroom has a Clean, Simple, Elegant and Extremely Intuitive and Friendly User Interface as it has Workflow Based Streamlined Modular Interface.

With Lightroom you can Batch Process and Edit your Images. If you have edited an image and you like to look of it and wish to apply the exact same look across multiple images, you can quickly do that in Lightroom.

Lightroom is great at keeping all the history of edits. All the edits that you do to an image are stored by default in the Lightroom Catalog.

Lightroom can display image metadata as an overlay as you edit photos.

Lightroom has an extremely sophisticated Image Management system to organise all your images and photo files.

Lightroom is a lot easier as compared to Photoshop and has a much shallower learning curve.
Here is an Infographic we created which you can Pin or Save on Pinterest for your reference:

Similarities between Photoshop and Lightroom:
At the core level both programs do essentially the same thing, edit images.
The way they handle tasks as well as how you actually use each program might vary – but if you are simply looking for software that will allow you to alter, tweak, and enhance your photographs, either one will suffice.
Both are capable of handling multiple file types such as: JPEG, PNG, TIFF, and a perennial favorite of many photographers, RAW.
In fact both Photoshop and Lightroom use the Adobe Camera Raw (ACR) processing engine to handle RAW files. So, you can expect similar controls and editing options in both programs when doing things like adjusting saturation, working with curves, and correcting for lens distortions.
Both Photoshop and Lightroom are powerful additions to any photographer's digital toolbox, but understanding what makes each one unique can help you choose one that suits your needs.
Both programs also feature an extensive set of editing and manipulation tools allowing you to do everything from; basic edits like cropping and adjusting exposure, to advanced alterations such as working with brushes, tone curves, and graduated filters. You will find a variety of built-in effects in both programs that will allow you to instantly apply edits such as black and white, sepia, and other artistic styles.
Conclusion: What to buy and Which Version to use – Lightroom or Photoshop?
Now that you have a solid understanding of the basic differences and similarities between Adobe Photoshop & Adobe Lightroom, which one should you be using & which version specifically?
Let me cut through the chase and put it very simply for you…
In my opinion:
You have 2 options!

Option 1: Lightroom
Option 2: Lightroom + Photoshop
One is to use Lightroom exclusively for all your Photo Management & Editing requirements & the other is to use both Lightroom & Photoshop for a more comprehensive solution. With option 2, you can use Lightroom to manage all your images & do basic & intermediate editing work on them & when you need to work on high-end retouching, image compositing, image manipulation etc, you can use Photoshop.
For those who envision themselves spending most of their time in Photoshop, I would suggest getting both Photoshop & Lightroom anyway. Why? Because Photoshop picks up the baton where Lightroom drops it and vice versa. They are two programs that complement each other perfectly and make up for an amazing combination, infinitely stronger together, than as individuals.
Personally, my workflow always starts in Lightroom with import, image management and RAW processing but then I open the images in Photoshop. If I'm working on a composite image then my Lightroom edits are very basic, then I do everything else in Photoshop.
So to conclude….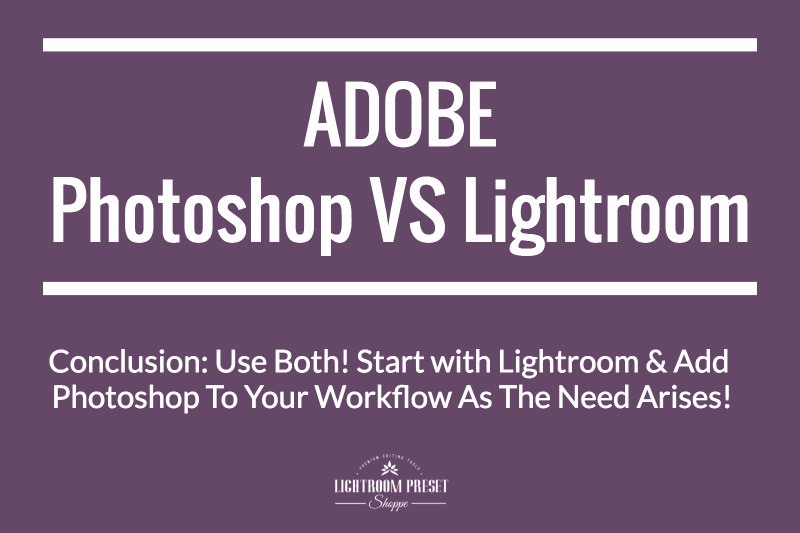 Lightroom should be the default workflow software for any photographer, Especially not just for portrait and event photographers, but also for most other photographers, it is in fact your digital darkroom, no less.
If your main job is
compositing
, you have to
use Photoshop!
If you are getting started with photography, Lightroom is the place to begin. You can add Photoshop to the mix later.
Both Lightroom and Photoshop are great software packages that have the ability to bring out your post processing creativity. Just choose the right tool for your photographic needs on a project by project basis.
Now that we are clear about what application to use, let's understand which version of Photoshop & Lightroom should you opt for.
Until recently, Adobe Lightroom was priced at around $150 USD & Adobe Photoshop was priced several times that amount. Buying both were quite an expensive proposition.
Thankfully, Adobe has made the decision much easier with its release of Creative Cloud and you can now get both programs for USD $10/month. If you don't like the idea of subscribing to software, you can still buy Lightroom by itself, and Adobe has stated they will continue to sell the standalone version for all future versions as well.
You can check Adobe Photoshop & Lightroom pricing here.
This blog post could be much, much longer and in many ways it seems like I have just scratched the surface, but I hope you have a better understanding of what makes these programs similar and different.
So what do you think? What differences do you think are worth noting between both programs, and what purpose does each serve for you?
—
If you want more content and articles like this, head on over to Lightroom Preset Shoppe now.